Vibrant, Radiant Looking Skin
Helps provide vibrant, radiant-looking skin with minimal downtime. Appropriate for mild skin imperfections as determined by your physician.
Female, Age 43
Baseline vs 2 Peels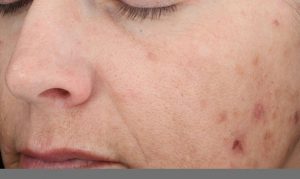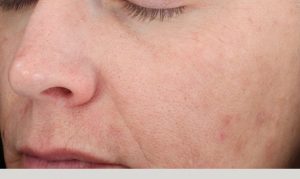 Female, Age 56
Baseline vs 5 Peels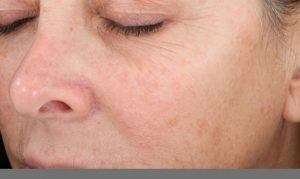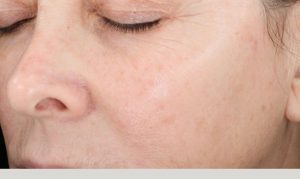 What's Inside? Key Ingredients
Prepping Solution:
Isopropyl Alcohol, Water/Aqua/Eau, Acetone
Peeling Solution:
Alcohol Denat., Salicyclic Acid, Resorcinol, Lactic Acid, Panthenol, Isoceteth-20
Retinol Solution:
Alcohol Denat., Retinol
SkinMedica Vitalize Peel FAQ's 
How do I decide which particular peel is most beneficial for me?
Logik
2020-09-06T23:00:03+00:00
During the initial consultation, your skin care professional will evaluate your skin condition and recommend the appropriate peel regimen based on your needs.
Who can benefit from SkinMedica® Peels?
Logik
2020-09-06T22:59:46+00:00
SkinMedica® Peels address the visible skin imperfections that result from skin aging and sun exposure, such as fine lines and wrinkles, uneven skin tone and texture. Peels also address skin tone unevenness that can be caused by acne scarring or pigmentary changes. SkinMedica® offers a range of different strength chemical peels that licensed medical professionals can select to provide the optimum treatment for their patients.
How do chemical peels improve the skin?
Logik
2020-09-06T22:59:28+00:00
Chemical peeling is a procedure that aims to accelerate skin exfoliation by the use of chemical substances resulting in renewed, healthier looking skin and more uniform complexion.